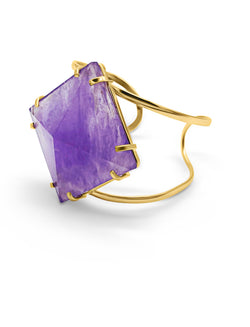 Jewel London Rocks
LIGHT PYRAMID AMETHYST PETITE CUFF BRACELET
LIGHT PYRAMID AMETHYST PETITE CUFF is the smaller version of the ROYAL PYRAMID series. It features a stunning beautiful hand cut and polished 40mm  high frequency Amethyst gemstone. 
ATTRACTING & MANIFESTING WITH CRYSTAL PYRAMIDS
Crystal Pyramids naturally amplify energy and are powerful aids in manifesting and attracting  your desires with positive intention.
18K GOLD PLATED ADJUSTABLE CUFF BRACELET
LASTING GOLD RETENTION
HANDMADE WITH LOVE, LIGHT & REIKI ENERGY
HIGH QUALITY CRAFTSMANSHIP